Tuesday, April 15, 2014
As we arrive at the one year anniversary of the Boston Marathon bombings, it gives us pause. Has it really been one year? How have things changed? What have we learned? Are we in a better place?
While the answers to these questions may not be clear, one thing is certain: the unity we felt with the city of Boston on April 15, 2013 is alive and well in 2014.
People have been purchasing BAUSTIN shirts throughout the year. They have been spotted all around the country. And we can now proudly say that we've raised OVER $20,000 for The One Fund!
To mark this anniversary, we are offering a limited edition BAUSTIN shirt. This shirt will only be available through the end of April and only online.
You can also show your support by updating your social media profiles with the anniversary BAUSTIN design. Download for Facebook & Twitter.
Our commitment remains to deliver all our proceeds to The One Fund. While shirt sales are all exclusively handled online, the effort is still a local one. If you ever have questions, please reach out.
Thank you for turning a small effort into a small movement.
Thursday, April 10, 2014
Get to know The Umlauf Sculpture Garden & Museum
April's CreativeMornings/Austin is being hosted at The Umlauf Sculpture Garden & Museum. 
This beautiful space is home to dozens of bronze and stone pieces given to the city of Austin by noted 20th century American sculptor Charles Umlauf.
The museum also hosts unique exhibitions and special programs. (They've generously invited any CreativeMornings attendees to stay after our talk to participate in their yoga class at 10 a.m. for a discounted $10 member price. Just bring your own mat.)
You can see why we choose this inspiring location for this month's theme of "sex." If you fall in love with The Umlauf as we have, become a member and follow @umlaufsculpture on Twitter.
Monday, April 7, 2014
Friday, April 4, 2014
Monday, March 31, 2014
Sunday, March 23, 2014
Explore "Hidden" Creativity on March 28
Laurie is a data artist. She uses self-tracking data to construct hand-built works and installations to imagine a time when sensors track and predict our behavior. She holds an MFA from the New York Studio School, an MBA from the University of Southern California and studies at New York University's (arts & technology) ITP program. Using her background in engineering and high-technology she explores the future of the quantified-self where iPhones and gadgets gather and present patterns of how we feel, stress level, mood and bio-function digitally recorded and physically produced as intelligent wallpaper.
VENUE, REGISTRATION, AND DETAILS
Join us at Rocket Mobile's new home on Friday, March 28, 8am. Registrations begins on Monday, March 24 at 11am. Click here for more details at creativemornings.com.
Tuesday, March 18, 2014
Thursday, March 6, 2014
Wednesday, March 5, 2014
Wednesday, February 19, 2014
Brandon Webber of CreativeMornings/Edmonton did a great interview with Author/Artist Austin Kleon–who was our inaugural speaker.
Tuesday, February 11, 2014
Rebel is the theme for our talk on Friday, February 21st.
SPEAKER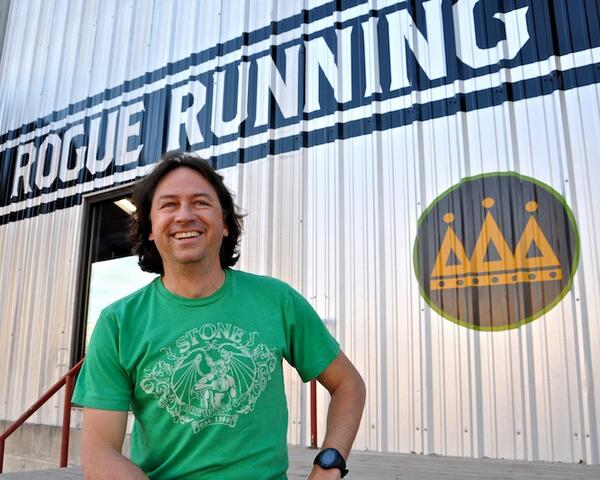 Steve Sisson is a coach and entrepreneur who uses the sport of running to challenge the principle of perceived limits. With over forty years of personal running experience and twenty years of coaching runners from rank beginners to All-Americans and Olympic Trials qualifiers, Steve approaches life and sport with an unconventional, uncompromising vision.
In 2004, Steve founded Rogue Running, a training and retail community developed introduce elite level training concepts to the everyday runner in group settings that encourage accountability and community.
From 2006 to 2013, Steve coached at the University of Texas at Austin guiding the distance runners in track and field and cross country to over ten All-American & Big 12 Championship titles. In 2009, Rogue began Rogue Athletic Club, a post-collegiate, professional track and field team that is sponsored by adidas. This group has already qualified two athletes to the 2016 Olympic Trials. An accomplished distance runner in his own right, Steve was a Texas high school state champion, a three-time All-American while at the University of Texas at Austin and represented the United States internationally.
SPONSORS  
Real HQ sponsors CreativeMornings because they believe that everybody should spend time making useful and beautiful things. They also believe in coffee paired with inspirational talks.
HOST
This month's talk will take place at the new Rogue Running location at 410 Pressler Street.
REGISTER
Registration begins on on Monday, February 17 at 11:00 a.m. CST on our site. It's easier and faster to get tickets if you have a CreativeMornings profile.
Monday, February 3, 2014
Save the Date
Save time on Friday morning, February 21st to "Rebel" with us. Details to be released via email soon. Make sure you're signed up to be among the first in the know.
Sunday, January 19, 2014
Anthony's Quest Box Adventure
Our October theme was "Play" and audience member, Anthony Blatner, had a unique experience thanks to our speaker, Mikal Hart. Check out his Quest Box adventure below:
I went to the CreativeMornings event and heard the talk by Mikal Hart.  It was very a very interesting talk about a game that he created using these devices, these boxes, that would only unlock when they're physically brought to a specified location, sometimes at a specified time. The quest only gives you clues of your distance to that location, only 50 times. And it will only tell you your distance, but not any more information such as direction. If the location is not found within those 50 tries, then it is locked forever. For-ev-er.

The idea was born when he wanted to give a really cool, unique gift to a friend for their wedding, and so the puzzle-boxes were created. Since then many people have used his puzzle-box adventures to get engaged, given as gifts, and more. He told one awesome story of an older sister who gave each of her 3 younger brothers a box that would open on their 18th birthday.

At the Creative Mornings event, Mikal randomly chose three people to give a puzzle-box to, and I was chosen!

So the following Wednesday, me and my team at Jackrabbit (Jon and JoJo) went on the epic adventure to find the location for our puzzle-box. We met at Doc's on South Congress for a beer, planning, and we activated the quest. The screen lit up and reported that we were 18 miles from the goal. Since we were starting in South Austin, we decided to try driving north first. Stopping at a nearby gas station on I-35, we hit the puzzle-box button again — data point number two. This time it reported we were 21 miles away. Wrong direction.




Next, we headed back south. Approaching 290 we decided to head west, since we thought there was a better chance of the goal being out there. Hitting the button a few minutes later, we found we were on the right track. We followed 290 for a ways, and were still making progress. We approached Dripping Springs, and gave it another try—the screen reported that we were within 10 miles. On Google Maps we saw a Sports and Recreation park, and guessed that this may be the location, since the theme was "Play". Although after a few more presses we found that we were wrong, and must have overshot turn somewhere. The distances that were previously counting down were now starting to climb back up—wrong way.




Backtracking through Dripping Springs, and along with Google Maps help, we took the next biggest road that wasn't 290. Again, progress. We were weaving through backroads and the rain was coming down hard. Looking up with Google Maps, we saw we were approaching Driftwood. As we came within 2 miles, we saw The Salt Lick plotted on the map, and started to get excited.

It's so rewarding to watch the number shrink as you get closer to your target. And pulling up to and in the parking lot for Salt Lick the number crawled from miles to thousands of feed to hundreds of feet. We pulled around the back, and as the number dropped, the box popped open right outside the venue. Success!

The note said, "Dear Friend — Nice! Meet us on the patio. We'll find you. <3" Woohoo!

We found the rest of the group inside of Salt Lick. The first team had already arrived, and Mikal was there.  

We grabbed a bunch of Salt Lick BBQ, and some pie & ice cream dessert. What a great prize! The third team arrived at the very end. We had a great time on this adventure—reverse geocaching is awesome!




You can see the path that Anthony's team took and read Mikal's blog post about all three teams adventures here: http://www.sundial.com/2013/11/dark-stormy-night/
Monday, January 6, 2014
Childhood is the theme for our talk on Friday, January 17th.
SPEAKER
When Brent Dixon was a kid, he wanted to be a tractor. That didn't work out, and so he's a designer, musician, and educator living in Austin, TX.
Brent believes curiosity, empathy, and play can change the world. In 2013 Brent organized hands-on art, design, and technology workshops with kids at Travis Heights Elementary School, Dell Children's Hospital, TEDxYouth@Austin, Dallas Makerspace,SXSWEdu, Brooklyn's Alpha One Labs, and NYU's Tisch School of Arts. These workshops are designed to help children open new doors to creative inquiry and exploration.
Brent also runs The Habdash, a creative consultancy, and is Vice-Chair of The Cooperative Food Empowerment Directive, a network that empowers students to create ethically-sourced, cooperatively-run food enterprises on college campuses. He was a 2012 Teaching Fellow atSingularity University and mentored 80 students from 36 countries on using disruptive technology to address global challenges. In 2010 Brent founded the The Cooperative Trust, a grassroots network of hundreds of young people fighting for the future of socially responsible finance.
Last year Brent recorded and released "Cradle to Cradle," a five-song collection available for your ears on iTunes and Spotify.
Most recently, he launched the Austin Hacklebox, a collection of materials and tools available for educators to freely borrow and use to organize their own hands-on workshops with kids.
Brent is currently a Master of Fine Arts design candidate at the University of Texas.
SPONSORS  
Real HQ sponsors CreativeMornings because they believe that everybody should spend time making useful and beautiful things. They also believe in coffee paired with inspirational talks.
IBM Design engages and inspires forward-thinking individuals everywhere to impact humanity in ways that matter and endure. They design for a purpose, for a person, the world, and the future.
Our coffee sponsor, Texas Coffee Traders, wakes up Austin's creative community every day with organic and fair trade coffee.
HOST
This month's talk will take place at the Thinkery!
REGISTER
Registration begins on on Monday, January 13 at 11:00am CST on our site. It's easier and faster to get tickets if you have a CreativeMornings profile.